The first
Health and Wellness Onlife Retail in Italy
Farmaè S.p.A è il primo eRetailer Onlife di Salute e Benessere in Italia, nato a Viareggio nel 2014.
Il Retail Onlife è un nuovo paradigma economico caratterizzato dall'integrazione di online, offline, logistica e dati in un'unica catena di valore.
Farmaè S.p.A oggi opera prevalentemente nell'eCommerce con più di 45.000 referenze in 14 diverse categorie di prodotto commercializzate ma è presente anche sul territorio nazionale con 7 Farmaè Store in Toscana (1 a Viareggio, 1 a Cecina e 5 nei principali ospedali della Toscana).
Farmaè S.p.A, nel condividere la nuova filosofia "OnLife", intende mettere al centro delle sue attività circolari il Cliente rispondendo in modo immediato, veloce e pragmatico ad ogni sua esigenza ed assicurandogli una customer experience unica indipendentemente dal canale di acquisto utilizzato.
Farmaè S.p.A. is the first Health and Wellness Onlife Retailer in Italy. The company was founded in Viareggio in 2014 and has been listed on Borsa Italiana's AIM Italia market since July 2019.
After establishing itself in Tuscany as a parapharmacy brand, Farmaè S.p.A. soon emerged as a leader in Italy's Health and Wellness sector, becoming the top representative of the Onlife Retailers sector. Onlife retail is a new economic paradigm that unites online, offline and logistics. By sharing the new "OnLife" philosophy, Farmaè S.p.A. intends to put Customers at the centre of its business by responding immediately, rapidly and pragmatically to all their needs and ensuring a unique customer experience regardless of which sales channel is used.
Today, Farmaè S.p.A mainly operates in eCommerce through https://www.farmae.it/ and https://www.beautye.it/ with over 45,000 products marketed in 14 different product categories. It is also active in Italy with 9 Farmaè Stores in Italy (2 in Viareggio, 1 in Livorno, 1 in Sarzana and 5 in the main hospitals of Tuscany) and a Beautyè Store in Viareggio.
The first marketplace in Italy in the Health and Wellness market.
Every day Farmaè S.p.A works with the most important multinationals in the sector.
All 80 of Farmaè S.p.A's young employees are committed to contributing to the company's daily growth and its continuous development, always keeping in mind the "Customer-Centric" mission constantly outlined by Riccardo Iacometti, CEO of Farmaè S.p.A.
Today Farmaè S.p.A boasts a very wide range of products, offering around 37,000 products on its website.
From logistics to customer care, the company makes every effort to provide and implement solutions that benefit its Customers.
Farmaè S.p.A is constantly working to introduce both physical and online technological innovations in order to always offer its Customers the best shopping experience and information.
Our mission immediately shaped our corporate culture and from the outset we have been determined to establish ourselves as a leader in the Health and Wellness sector, always putting the end Customer first in all our satisfaction strategies.
Our guidelines allow us to grow every day and to adapt to constantly changing trends, enabling us to always meet the real needs of our Customers and of the Industries with which we have been working for years.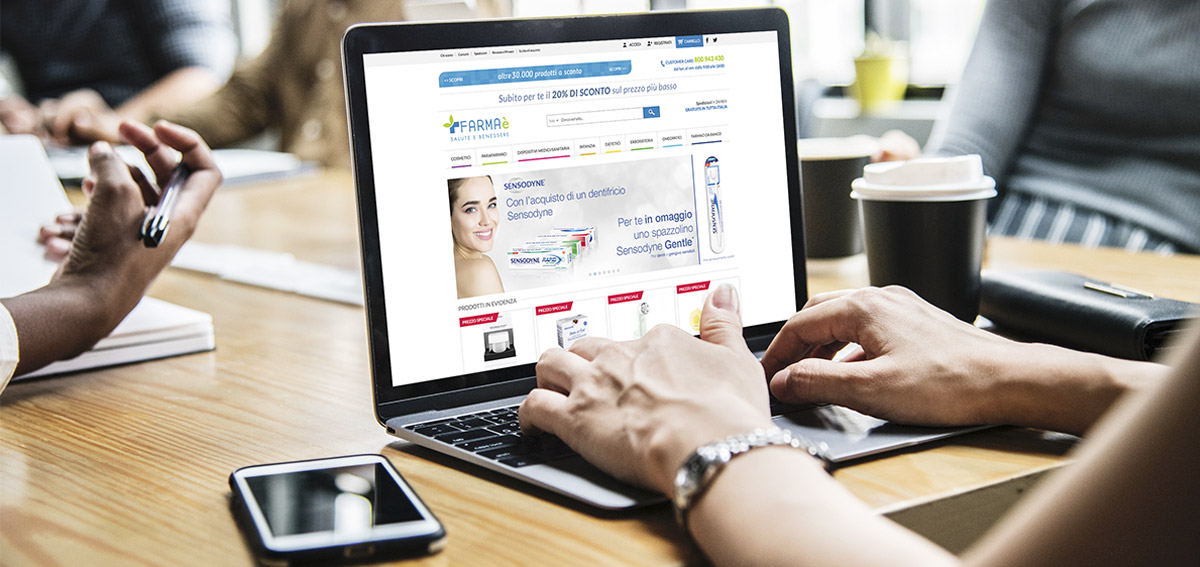 We not only want to establish ourselves as the leading Italian player in the eRetail distribution sector but also to develop our Retail positioning by adapting to the new paradigms of Omnichannel in order to allow our Customers to access our content and our products anytime & anywhere.
We also intend to soon expand into other product areas and to renew our media positioning, establishing Farmaè as an accredited voice in the sector and as a reference point for leading companies' communication and marketing strategy.